Book Love: Recommendations From Amy Allen Clark
I'm excited to share another round of book love (be sure to check out previous recommendations from Lindsey Mead, Lucrecer Braxton, and Jessica Turner)! Today's recommendations come from Amy Allen Clark, author of The Good Life For Less and founder of MomAdvice, a community for women who are looking for ways to stay organized, stay sane, and stay within their budget. Amy is incredibly crafty and creative, reads a ton, and also inspires people to read more through her book club and reading challenge. Today Amy shares 5 books off the beaten path: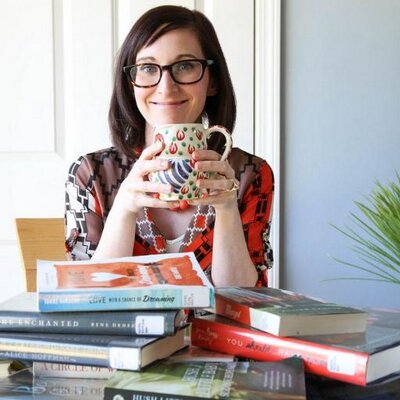 Founder of MomAdvice.com and author of The Good Life for Less. Lover of the beautiful & simple life.
1. The Heart's Invisible Furies by John Boyne
The Heart's Invisible Furies was just EVERYTHING and reminded me a lot of one of my all-time favorites, A Little Life. At almost 600 pages, I was worried if this book would hold my attention, but Boyne crafts the perfect boyhood friendship as it sprawls decades of time in this gorgeous and gripping saga.
You may be familiar with Boyne's work, but I was not. I picked this book up on a whim and devoured it in just a few days.
A faithful Catholic Irish family casts out their daughter when they discover she is pregnant. Knowing she is not in a position to raise a child alone, she gives him up for adoption to his new parents…who love to remind him that he is not their real son.
This dark humor is layered so beautifully as the boy, Cyril, becomes dear friends with a boy named Julian. The problem is, as Cyril gets older, he realizes he has a deep and undying love for his best friend. Cyril must keep his sexuality under wraps and keep his affection for him a secret, which ends up costing him a lot.
The book follows these two through the decades, beginning in 1945 and ending in Cyril's elderly age. It finishes in the present day while tackling everything from being closeted to the AIDS epidemic to what it really means to be family.
I laughed and got a little teary-eyed following Cyril as he goes through this identity crisis and finds love. I was really swept away in this story and Boyne builds a beautiful supportive cast.
2. Rabbit by Patricia Williams
If you read only one memoir this year, please let it be Rabbit. Rabbit is the true story of Patricia Williams (aka Ms. Pat) and her life growing up in Atlanta at the height of the crack epidemic. Williams is one of five children and witnessed how her mother was able to work the system to help her family survive…and how her children were used just for these purposes.
Patricia becomes a mom of two children at fifteen and must learn strategies for her family to survive when she is only a child too. She becomes a master at hustling and dealing crack to keep her family fed.
This book is unflinching in its honesty about how quickly Patricia had to grow up and the unbelievably difficult situations she survived from being sexually abused to even being shot. She survived it all though and shares her story with equal parts heart and humor, even in the face of all of her adversities.
I read this book in a single sitting and can't recommend it enough!
Warning: this book contains physical and sexual abuse towards a child.
3. The Book of Polly by Kathy Hepinstall
I love quirky stories that are big on humor and The Book of Polly was everything a good read should be. Beautifully developed characters, loads of hilarity, and Hepinstall's choice of words and phrasing make these characters, truly, come to life.
Polly has an unexpected surprise in her late fifties and gives birth to her daughter, Willow. Polly is not like any mother that Willow knows at school and the reader experiences her pride and shame at just how little she does fit in. One of Willow's biggest worries is Polly dying and when she ends up being diagnosed with cancer, it is like her worst fears coming true.
Polly's not going to exit this world quietly though and Willow decides she wants to know more about Polly's life from her younger years, which lead them on an epic road trip.
I laughed out loud through this book and kept reading passages to my husband who laughed alongside me. Fans of Be Frank With Me and Whistling Past the Graveyard are FOR SURE going to love this hilarious read! This one will definitely be on my top ten list of the year!
4. Words in Deep Blue by Cath Crowley
I have a deep affection for great Young Adult literature and Words in Deep Blue is absolute YA perfection. I guarantee that you won't be able to put this one down.
This is the story of two friends, Rachel and Henry, who ended up growing apart for two reasons: Rachel moved and she left a love letter to Henry that never received a response.
Rachel eventually moves back and has hard feelings against Henry for never responding to her letter. She also is battling a personal battle that no one in town knows about. As luck would have it, she ends up getting a job at the local bookshop, owned and run by Henry's family.
It is here, amid the books, that secrets are revealed between the pages as Rachel and Henry find friendship and love again in one another.
I'm surprised I'm not hearing more about this fantastic book! It is a bookworm's dream and gives you lots of great book ideas to dive into once you finish reading it.
5. All Our Wrong Todays Elan Mastai
If Dark Matter is your jam, you will absolutely love this fantastic debut novel that is filled with humor, heart, and adventure. It is no secret that I am time travel obsessed so I couldn't wait to dig into All Our Wrong Todays. Mastai is a screenwriter and this book plays out like a movie (it is also no surprise the movie rights were quickly sold) as Tom Barrens time travels from the 2016 we thought we would be living in and then must time travel into the 2016 we really live in.
Remember The Jetsons and the futuristic cars and ways of living we believed we would be experiencing? Yeah, so that is the reality that Tom is living in, where everything is automated and easy as people rely on incredible technology to live. When he loses the girl of his dreams and has a time machine at his disposal, he decides to time travel to find her again. This 2016 is the world we inhabit now and Tom is annoyed and baffled at our slow progression. It is there though that he finds his family life in a very different place, a flourishing career, and he has captured the heart of a wonderful girl.
What's a guy to do?
Prepare for the adventure! Smartly written, finely crafted, and laugh-out-loud funny- I couldn't put this one down. It will definitely be one of my favorites this year!