Boston Despereaux Screening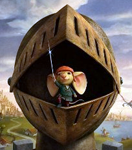 If your kids love movies, animated adventure The Tale of Despereaux - voiced by Matthew Broderick, Dustin Hoffman, Emma Watson, Tracey Ullman, and many other stars - opens nationwide December 19, but this weekend (Saturday, December 13 at 10am), Universal Pictures is offering our readers exclusive tickets to the advanced screening of Despereaux in Boston! Want to be one of 10 winners to receive a 4-pack of tickets to the screening*? Simply email contests@bostonmamas.com with "Mouse Movie" in the subject by noon Wednesday, December 10. Hope to see you there!

+ + + + +
THIS CONTEST IS NOW CLOSED
Congrats to winners Sybil D., Barbara C., Maggie A., Nicole L., Laura D., Kristen F., Julie B., Shammi G., Laura B., & Olla C.!
+ + + + +
*Ten winners will be drawn. Two grand prize winners each will receive a 4-pack of tickets + prize packs; the other eight winners will receive general admission 4-packs of tickets.
**The screening will take place at a major Boston theatre; location to be disclosed to drawn winners. It's a legitimate, easily accessible major theatre, folks! I've simply been asked to only disclose location to ticket winners to prevent those without tickets from showing up.