Avon's Got A Brand New Bag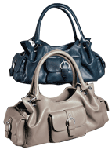 I must admit that I've long been under the impression that Avon is just about cosmetics, but they've apparently branched well beyond; in addition to wellness products, kid's décor, and even man gifts, they offer an affordable line of handbags, including this Pockets Galore Bag. It's big enough to hold all of your (non-diaper bag) essentials, while keeping a trim and trendy silhouette. Want to learn how to win this or another Avon bag*? Here's how:

+ + + + +
THIS CONTEST IS NOW CLOSED
Congrats to winners Meagan & Gina!
+ + + + +
To enter to win, simply email contests@bostonmamas.com (with 'Avon' in the subject) and include your shipping address. (Note: your information will be kept private; addresses are collected here solely for the purpose of expediting the Avon giveaway.)
One entry permitted per person; US entrants welcome.
Entry period closes tomorrow at noon EST, Tuesday, December 23, 2008.

*Two winners will be drawn. One winner will receive the Pockets Galore Bag in grey (listed as beige on website, but definitely looks grey in person!). A second winner will receive Avon's Laser Cut Tote in black (this bag is no longer available on the Avon site, but is the second image shown here).