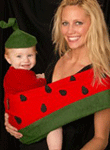 And now for our weekly dose of web highlights from some of our stylish blog partners:
Cool Finds: One Chic Mama features a clever Halloween costume and sling in one (shown). Classy Mommy speaks to the wow factor of the luxurious $2500 Kid Kustoms stroller. MomFinds's back to school guide includes the best backpacks, coolest lunch boxes, and sharpest pencil cases for your kid.
Good to Know: Healthy Bump has a Q & A with Alice Koskas, owner of The Lounge Spa in Culver City, CA, about pregnancy and skincare to help you get through the rest of the summer. Clever Parents's vidcast features craft kits for kids ages 18 months to 11, tips for hosting a puppy party, and learning to live with things that bite.