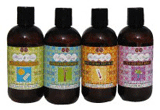 Ever since reclaiming the ability to take a shower (following those early, consuming days of newborn care), I relish days where I have enough time to properly indulge in yummy bath products (not to mention a good shave).
And in the vein of yummy, check out the deliciously eco aware body care by Two Green Cents. Donating two cents of every profit dollar to environmental causes and green initiatives, TGC offers a collection of natural, plant based body products free of animal testing. Their terrific line of rejuvenating, hydrating body washes is formulated from all vegan essential oils, extracts, shea nut butter, and aloe vera (try the tart Heart & Solar Lemongrass and the sun kissed Hot Enough For You Sweet Orange). We also love the summery, fruity pop of their beeswax-based Global Balming lip balm line. You just might want to pick up more than one flavor because once your kid gets a whiff, they'll want a part of the lip smacking eco action.
UPDATE: Just for Boston Mamas readers; use code TGCBOSTON at checkout for a FREE lip balm (random flavors)!